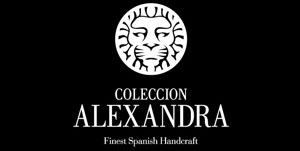 Spanish factory Colleccion Alexandra is created some thirty years ago, the founder Jose Maria Guynot. Now the furniture factory Colleccion Alexandra has a huge popularity worldwide. Production of factory - an exclusive and original furniture and accessories. Furniture Company Colleccion Alexandra - stylish and elegant collections for living rooms, dining rooms, furniture for offices, bedrooms, bathrooms. Original interior items, unique style, refined forms, bold design solutions - all that distinguish furniture Colleccion Alexandra.
Bedrooms
Dining rooms
Living rooms

Bath furniture
Table Lamps
Leather articles


Factory Colleccion Alexandra has worldwide fame and popularity. The factory has a team of unique furniture craftsmen, artists and talented designers. In their work they are using not only traditional methods of furniture manufacture, which were used by Spanish furniture makers for centuries, but also new, modern technologies and methods. Furniture and factory collections incorporate all the best of the modern world and the uniqueness of a bygone epoch. Furniture is exclusive due to the materials that are used in the furniture design: unusual jewelry, stylish and original decor items, semi-precious metals, textiles, leather, which are developed specially by experts. Furniture and many decorations are made by hand.
Factory has established a reputation as a manufacturer of high quality furniture. In furniture production they use precious woods and toning in a variety of colors, using gold leaf. Classic furniture Colleccion Alexandra - slightly glamorous, but always harmonious. Classics, Art Deco, modern - elements of these furniture styles are used at the factory, creating a luxurious and efficient space, comfort and convenience. The company also operates actively in interior design all over the world, individual and complex for commercial complexes, offices, hotels, restaurants. The company is engaged in manufacture and preparation of decorative accessories, lamps, table luxury lamps, textiles, carpets. This allows you to create individual, full interiors of the factory Colleccion Alexandra. Leather goods, leather upholstery - the undisputed favorite of Colleccion Alexandra. Furniture makers demonstrate diligently their leather craft in leather accessories for furniture, handbags, men's wallets and other leather products.
Elaborately dressed, soft and durable, smooth, embossed and textured patterns leather used skillfully in the factory collections. It should be noted that in the international press constantly there is published information about the Spanish factory Colleccion Alexandra, about updates and offers of the factory, numerous interviews with the founder of the company, presentations, and participation in international exhibitions. Luxury items, especially things that are created under the laws of harmony, beautiful and qualitative - that such products of Spanish factory Colleccion Alexandra.