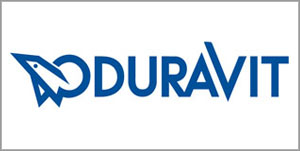 Joint favourite of the world market of pluming equipment, furniture for bathrooms and other premises – Duravit Company. All collections of international company are in great demand and interest for buyers who value and love comfort. Luxury products Duravit have an exquisite design, high quality and versatility. Plumbing, bathroom furniture and accessories make your bathroom elegant, stylish and cozy.
Furniture for bath
Bath and jacuzzi
Kitchen sink
WC toilets and bidets
Basins for bath
Sanitary ware for public places

History of Duravit Company goes back in long-ago 1817, during its long life company has been able to move from pottery production to high-quality sanitary porcelain. Improving its innovative technology, developing dynamically and expanding its production – company has become one of the leaders on the global market of luxury plumbing, sanitary porcelain and high-quality bathroom furniture. History of Duravit Company - a story of many production facilities around the world that have become its part. Talented designers and artists invited from around the world by the Duravit Company, created a unique and exclusive collection for bathrooms, different in style, originality, forms, lines and colors. The Duravit collections include good elements combination of the present and past, classic, retro, art deco, articles of rounded shapes and straight lines, acute-angled shapes, spherical elements of ceramics, flat surfaces made of wood, a variety of models with original technical solutions. All collections and items have unbeaten and elegant design, marked with the author's design and have a name of the idea author and developer.
The product range produced by international company Duravit is very large. It includes washbasins, sinks, washstands, mixer taps, baths, toilet bowls, showers and shower fittings, shower enclosures, trays, bidets, urinals, furniture, saunas, accessories and other plumbing products. It should be noted the collection of compact toilet bowls, bidets and other plumbing products, bathroom furniture, which are designed for small rooms and that will not take up much space. These versatile collections catch fancy of the supporters of minimalism.
Reliability and the highest products quality of the Company are not in doubt; over the world Duravit plumbing products are considered as benchmark of style and practicality. The production uses only natural raw materials, meeting international norms and quality standards. For reaching ceramics shock resistance and reliability, Duravit uses its own decision, material DuraCeram@. Protecting plumbing surface from lime scale and dirt, company uses as a basis reliable technology WonderGliss.
In the age of technological advance Duravit company constantly surprises by the introduction into its plumbing products the most modern technology as well as digital technology. Many Duravit products have revolutionized the world of modern plumbing. Concerning about the quality of the products, the company uses manual labour skills in manufacturing process as in the old days. Fashionable novelty of the company is developed mirror cabinet for bathroom with an integrated sound system, the new wall-mounted toilet bowl with innovative and effective flushing technique and other exclusive products.
Design baths, bathtubs with hydromassage, acrylic bathtubs of any configurations, impact-resistant basins (resistant to changes in temperature, light-fast), overhead and semi-recessed sinks, squat toilets, suspended toilets with a system of installations, console toilets, wall and floor urinals, urinals with touch flush, design models of mixer taps with temperature and water consumption limiters, electronic mixer taps and many other products.
Duravit Company's competitiveness is based on the wide representation around the world, years of experience in customer service, and ability to perform at a professional level the stringent customers requirements. There is a huge list of countries where the Duravit Company plumbing products are used to create the famous and prestigious buildings, hotel complexes and hotels, community and cultural centres, sports and fitness centres, private premises, exactly in India, France, Germany, Spain, Argentina, Great Britain, Belgium and other countries. All products of Duravit Company are with modern tendency and exclusive style; they help to create comfortable harmonious interiors.