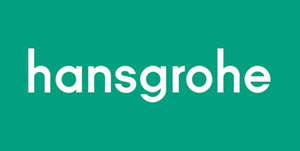 Hansgrohe - an international company with a high reputation around the world. The company was founded in 1901, stepped centenarians, it produces and sells its products in 144 countries and has more than 55 branches and offices. Designers and architects create products, designed for the modern bathrooms, with beautiful and comfortable, sophisticated and refined sense. Exclusive products of Hansgrohe- economical, reliable and have unsurpassed quality.
Kitchen and bathroom mixers

At present, Company Hansgrohe is the largest in the manufacture of equipment for bathrooms and kitchens – mixer taps, showers, shower cabins, sinks, toilets and bidet, furniture for bathrooms, lamps, mirrors, jacuzzi tubs, mini swimming pools, spa-centres, drainage systems , thermostats, bathroom accessories and other bath and toilet articles. We offer you buy the products of Hansgrohe factory in Spain at factory prices.
Company Hansgrohe produces and sells its products under the three world famous brands - Hansgrohe, Axor, Pharo.
- Hansgrohe manufactures products for modern bathrooms and kitchens, such as faucets, sinks, showers, drainage systems and other plumbing.
- Pharo produces systems for individual baths, wellness systems, shower systems, steam rooms, jacuzzi tubs and others.
- Axor creates designer collections for bathrooms with individual design, with the latest technology of green design and conservation of natural resources, exclusive and innovative.
A professional team of designers, architects of Hansgrohe Company year after year creates new collections, amazing plumbing products that conquer by their individuality, unique and stunning design finds. The most famous designers and architects are working on the Company projects embodying their bold ideas. Artists, designers, architects are from Germany, France, Italy, Spain, Sweden, Japan and other countries.
All over the world we can meet Hansgrohe complex projects, in hotels, congress hotels, residences, historic buildings, public buildings, spa complexes, golf hotels, multi-sport halls and clubs, youth institutes, cruise ships and yachts, airports and others.
Products of Hansgrohe Company were used in many important public places, such as theskyscraper Burj Khalifa in Dubai, eco-city Masdar City in Abu Dhabi, London Heathrow Airport (Terminal 5), Villa Magnolia on the French Riviera, stylish hotels Bella Sky Comwell and Bella Sky in Copenhagen, football stadium Omnilife in Mexico, the Chelsea Football Club in London, an old mansion hotel Ketschauer Hof in Daydeskham (Germany), design hotel Innside in the heart of Dresden old town, youth hostel Prizeotel in Bremen, hotels Mandarin Oriental and Casa Camper in Barcelona, hotel Royal Spa Kitzbuel in the Austrian Alps, Congress Hotel Dolce Munichna in the outskirts of Munich, Hotel WTaipei in Taiwan and many other amazing places. Ship-owners, passengers of cruise ships Norwegian Breakaway and Celebrity Equinox and British yacht manufacturer Sunseeker are perfectly satisfied with the products Hansgrohe.
To equip the bathrooms and other rooms they use only high-quality products with the required level of comfort, innovative solutions in design, with high functionality and an enviable economy. Hansgrohe Company is able to satisfy the most exquisite clients' wishes and dreams.
Creators of exclusive collections for bathrooms cause the deepest respect. Collections have everything required for a comfort: shower that will change the spurt type of soft drops to stimulating massage; Shower, which mixes cleverly water with the air and becomes pleasant rain; shower cabins with smart buttons. Company experts work with love on new projects, developing the necessary style of bathroom and other rooms, harmoniously combining it with the general interior, ranging functional and comfortable plumbing items, and remembering about economical issue.
Hansgrohe is constantly introducing ecological and economical programs, so necessary in our time, for example, the tap - enabling cost-effective and reasonable use of the resource, mixing faucets - hot water flows only when necessary, showers and mixing faucets - consuming up to 60 percent less water, purification system of contamination and lime deposits and other plumbing products that automatically allow to save energy and water and protect the environment.
Company uses eco-friendly technologies in production and actively protects the ecological environment and climate. There are highest international honours and awards received by Hansgrohe Company, in design, innovation, quality, health, economy and environmental conservation. Undoubtedly, Hansgrohe Company can be regarded as the incubator of inspiration, ideas, innovations, creativity and arts.