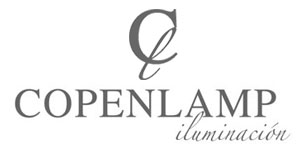 During its century-old history, Spanish factory Copenlamp became the world's leading producer of unique and individual lighting items. Factory production is well-known and loved in many countries over the world - delightful chandeliers and lamps, luxurious bras, candelabra, table lamps and other lighting fixtures. Copenlamp company supplies its exclusive products to nearly 30 countries around the world. Factory is located in Valencia, Spain.
Chandeliers
Sconces
Table lamps

The unique design of interior lighting fixtures is created at Copenlamp by a team of Spanish and international designers and artists. Good workmen with inexhaustible imagination create designer collections for lighting, combining the elegance of minimalism and classics luxury. Careful handmade and high quality make Copenlamp products unique and individual.
The main object of delight and admiration of Copenlamp Company - large cascading chandeliers. Multilevel chandeliers at every level are added with new nodules, horns, ornaments and luxurious décor, drawn and decorated frame. The company produces large chandeliers and projects, especially for individual interior, to the order. Non-recurring collection is constantly updated with new fixtures and chandeliers, consisting of many parts, with the original suspension, decorative cloth and non-traditional forms.
The factory Copenlamp uses modern high-tech equipment, but during the main processes, lighting fixtures are handmade by experienced craftsmen who perform delicate work, melt glass, process materials. In the production they use high quality brass, which is easy workable, thanks to this there are created complicated parts for lamps, and then processed fake-gold-look or bronze. Only coordinated work of all factory departments allows producing such refined and harmonious products.
Copenlamp decorates its works with quality crystal in different colors and shapes, Swarovski crystals and Asfour, shining Murano glass from Venice. Designers create lighting fittings of amazing shapes, simulating rain drops, flashes of flame, burning candles, a vase with crystal flowers or jewelry wave. Basically, collections are available in the classic style, but lighting fittings are tastefully decorated with ornaments of other styles, that adds the charm and originality.
It should be noted chandeliers manufactured in the style of Maria Theresa, which are in-demand recently. These are classic chandeliers of Murano glass, crystal, metal horns coated with glass strips. They are amazingly beautiful and elegant. Spanish chandeliers, lamps, table lamps, wall lamps, candelabra of Copenlamp are distinguished by excellent quality, reliability of use, durability, thanks to the fact that at every stage of production there is organized multi-stage control.
Company Copenlamp constantly represents its fragile masterpieces with rich decoration at international exhibitions and receives prizes for contemporary design, décor and technology. Factory lighting products attract attention and create a unique interior with a bright accent, they effectively illuminate and decorate any private house and apartment, lobby, public and commercial buildings, and other important places.