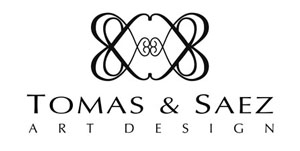 Tomas Saez - Spanish company, factory specializes in the production of exclusive sets of lighting, interior design items and accessories. High-quality lighting is made with exquisite design. Fragment and small furniture is unique in its beauty. Tomas & Saez products break conventional ideas about standards of furniture, lighting features, decor items. Thanks to its original production Tomas & Saez has gained popularity far beyond the borders of Spain.
Table lamps
Chandeliers
Home decoration
Office accessories

Spanish factory Tomas & Saez is organized by craftsmen, real professional team. Where plans of artists and designers are embodied into the concrete products and genuine works of art. Company Tomas & Saez is situated in the industrial area of ​​Valencia. Today Tomas & Saez can offer a wide range of Spanish chandeliers, lamps, floor lamps, table lamps, auxiliary furniture, accessories and decoration items. Most of exclusive products composed of parts, which require professional skills and are performed manually. Each product manufactured at the factory has a bright distinguishing feature, whether it's unique design, noble material, shape, or color.
The factory is constantly experimenting with materials and technologies. Tomas & Saez uses a variety of materials such as bronze, copper, marble, non-ferrous metal, crystal, glass, acrylic (plexiglas) and others in its production. For topcoat of products they used gold (24K), silver. In the factory collections you can see highly artistic lighting equipment, which creates whole light compositions and kits ranging from the dazzling parade to muted chamber. Especially popular among buyers are lamps, chandeliers, sconces, floor lamps, table lamps, combined with each other in style and decor. Such kits surprisingly refined and gently fit to the interior.
Company Tomas & Saez is famous for the auxiliary and small furniture. Great bizarre bend tables, graceful consoles, mirrors, cabinets, bookcases will be adornment and functional decor, and nevertheless it is living room, hotel or public importance place. Completing interior furniture is made in a modern and classical style, as well as the confluence of different styles. All furniture items, from the smallest to the largest are made with the utmost care, combining metal, glass and other materials. Exclusive furniture equipped with high quality components.
The Spanish company Tomas & Saez is one of the few manufacturers of luxury home decor items, handmade accessories for office. Magnificent, elegant bowls and vases, original candlesticks, picture frames, clocks in a spectacular frame, desktop devices, stylish table lamps give the interior design sophistication and brilliance, symbolizing welfare, warmth and prosperity, made of crystal, glass, bronze, silver and gold. The highly qualified staff of the company Tomas & Saez constantly creates an entirely new and original furniture models, lighting and decor. Years of experience ensure high-quality products, reliability and interesting design ideas.
Production of Company Tomas & Saez deservedly adorns many Spanish objects, as well as palaces, villas, hotels, public buildings in many countries. The factory is ready to work with individual orders, limited quantities of custom design products. Company Tomas & Saez from one year to the next participates in international exhibitions and competitions, receiving prestigious awards for the ideas, design and excellent quality.