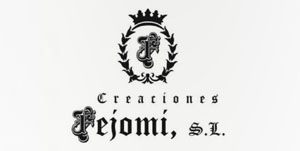 Creaciones Fejomi - Spanish furniture factory, a manufacturer of luxury furniture with unique design solutions, sophisticated finishes and the finest carving - the highest quality. Furniture of Creaciones Fejomi creates an atmosphere of palace luxury, chic, with a stunning and authentic imitation of French and English style of past centuries. Company range contains - elegant collections of living and dining rooms, bedrooms, furniture for classrooms and offices, auxiliary furniture and interior features.
Dining furniture
Auxiliart furniture
Home office

The amazing story of Creaciones Fejomi factory - just for 20-year history, a young factory according to the standards of the furniture industry has become a well-known furniture brand and a leading producer of classic furniture. Factory occupies a higher position in export of interior items and auxiliary furniture. It's safe to say, Creaciones Fejomi furniture products are very popular all over the world.
For their collections Creaciones Fejomi uses valuable wood species, uses traditional varieties for classic furniture: mahogany, cherry, walnut, oak, olive, rosewood. For the rich decoration - bronze which is cast with a help of old manual way. Skilled craftsmen and artists of Creaciones Fejomi have high skill in drawing marquetry, filigree inlay, carving, intarsia, silvering and gilding, varnishing - all these are artfully used to create furniture of higher elite class. To perform such a complex décor, numerous processing furniture steps and meticulous handwork are needed.
Creating its unique furniture, Creaciones Fejomi uses furniture masterpieces of past ages, historical prototypes, exploring the palace and museum exhibits, giving preference to French and English styles. This furniture - perfect and elegant. But painters and decorators of Creaciones Fejomi generate their creative ideas in a modern design of classic furniture with the original interpretation. Creating furniture replicas of past eras, they pay great attention to the rich decor, furniture, precious fabrics and decorations. The catalogs of factory Creaciones Fejomi presented furniture sets for living rooms and dining rooms. Each piece of furniture is unique, original, and can be represented in the interior all alone.
For setting up private study, office and business premises- classic style is the best. Luxurious and elegant furniture for studies in French and English styles is offered by Creaciones Fejomi: writing and work tables, coffee tables with marble top, inlaid desks and cabinets, chairs with armrests, chair. Creaciones Fejomi represents a wide range of comfortable auxiliary furniture: showcases, secretaire, console with drawers, console with marble top, framed mirrors, the 3-door and 4-door counter, coffee tables, tables with inlaid, chests of drawers with marquetry, shelves with drawers, TV stands.
Gorgeous Spanish furniture Creaciones Fejomi - refinement, style and luxury. Every year the factory Creaciones Fejomi presents new collection at the international exhibitions of furniture and decor (Italy, Spain and other countries) and at other significant events in the furniture business.